The Colombian government wants to diversify the energy matrix and renewable energies play a key role in this process. Authorities are analyzing where to develop new projects and two regions stand out thanks to their environmental characteristics.
According to Portafolio, La Guajira and Cesar could concentrate the majority of renewable energy projects, since there are the highest levels of solar radiation and wind. Colombian authorities want to take advantage of these characteristics to attract investment.
The Ministry of Mines and Energy (MinMinas) is usingmaps of these regions to carry out its energy transition policy.
María Fernanda Suarez, MinMinas, commented that several regions have great potential to develop renewable energy projects, especially on the Caribbean coast.
"We have a unique opportunity: wind speed is double that of the world average, and we also have one of the highest luminosities. The potential of wind and solar resources can be greater than the water potential at the national level," highlighted Suarez.
She recalled that the government plans to move from 50 megawatts of installed capacity to 1,500 megawatts in unconventional sources of renewable energy over the next four years.
"The estimated investments for the development of wind and solar farms are calculated between US$1.3B and US$1.8B and will generate an approximate reduction of three million tons of CO2," pointed out Suarez.
MinMinas said that Magdalena, Atlántico, Northern Bolívar, Vichada, Meta, Casanare, Arauca, Boyacá, Tolima, Huila, Valle del Cauca and Sucre report high levels of irradiation as well. However, she pointed out that there are high levels of solar radiation in more than half of the country.
"We need to push renewable energy as fast as we can, and make sure that consumers play an important role," Suarez said.
La Guajira, Cesar, Atlántico, Magdalena, Bolívar, limit of Santander, Norte de Santander, Boyacá, Cundinamarca, Valle del Cauca, Cauca and Nariño, report great wind force capacity for wind projects (see next map).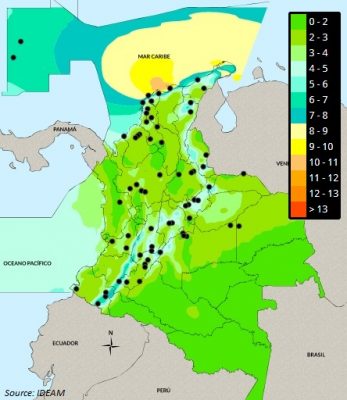 Bottom-Line: The first map shows the areas with the highest potential for solar radiation in Colombia.
Undoubtedly, the country has great potential in solar and wind energy, which has aroused the interest of investors. Authorities should remember that the sector needs a solid regulatory framework and attractive conditions to take advantage of this potential.