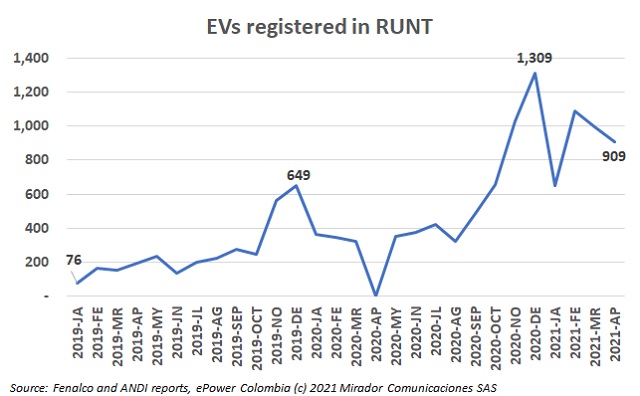 FENALCO and ANDI announced the number of Electric Vehicles (EV) registered in April this year.
The entities said that there were 909 EVs registered in the RUNT (Colombia's official vehicle licensing database) in April this year, according to a press release.
This represented an increase of 371% compared to same period 2019 (193). There were just five EVs registered in April 2020.
The cumulative figure went from 1,044 EV registered in the first four months of 2020 to 3,648 in the same period this year.
The cities with the highest reported registrations are Bogota (452), Medellin (180), Cali (58), Cucuta (36) and Manizales (21).
There were 872 hybrid vehicles and 37 Electric Vehicles registered in April 2021.
The top five of brands registered were led by Toyota (367), followed by Mercedes Benz (131), KIA (106), Suzuki (104) and Subaru (58)
Bottom-Line: The EVs registered is in line with the sales registered in April 2021 by the market. Sales have decreased and this behavior could continue due to the difficult social situation.
However, authorities should continue to work on improving the charging infrastructure, as this will boost this market in the medium term.