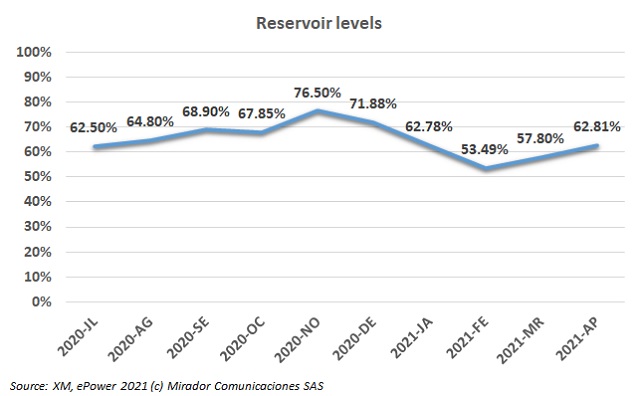 XM, the operator of the National Interconnected System (SIN), announced the average water level of reservoirs behind power dams in Colombia.
The entity said that the reservoir levels were 62.81% of the useful volume in April 2021, 5% more compared to March this year (57.8%).
The level by regions was led by Antioquia (82.1%), followed by Valle (61%), Caribbean (54.5%), Oriente (52.4%) and Center (51%).
The region with the highest water contributions was Oriente with 143%, followed by Caribbean (137%) and Antioquia with (108.7%).
XM's Jaime Zapata said that Colombia imported close to 174GWh in April, presenting an increase of 5% compared to the previous month; this is within the framework of the International Electricity Transactions (TIE) with Ecuador.
"The water contributions were 110.54% of the historical average, contributing to the recovery of the water reserves. Generation with non-renewable resources (fossil fuel) had a participation of 16.28% and generation with renewable resources, a participation of 83.72%," Zapata said.
Bottom-Line: Reservoir levels are better, but the need to diversify the energy matrix is still present.
Colombia needs to reduce its dependence on hydroelectric generation. The government must boost projects of natural gas, solar and wind to achieve it.