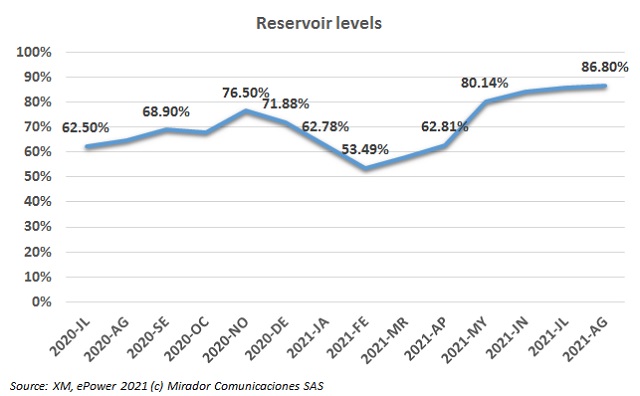 XM, the operator of the National Interconnected System (SIN), announced the average water level of reservoirs behind power dams in Colombia.
The entity said that the reservoir levels were 86.8% of their usable volume in August 2021, 0.8% more compared to June this year (86%), Valora Analitik reported.
The level by regions was led by Oriente (99%), followed by Antioquia (97.1%), Caribbean (77.2%), Valle (76.2%) and Center (69%).
XM's Jaime Zapata said water contributions were 115.8% in August above the historical average, contributing to the increase of the water reserves of the electric power system.
"XM continues to permanently monitor system variables and work with the Ministry of Energy (MinEnergia) and other stakeholders in the energy ecosystem to guarantee safe and reliable service delivery," Zapata said.
Bottom-Line: Reservoir levels are at good levels thanks to the rainy season, but authorities estimate that this will end in the coming month. The need to diversify the energy matrix is still present and the country must continue on the path of encouraging renewable energies.