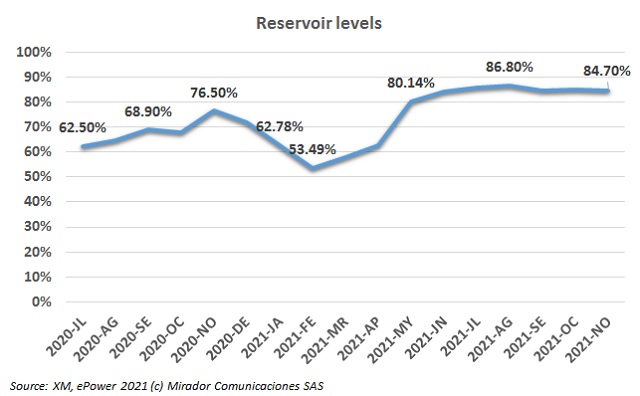 XM, the operator of the National Interconnected System (SIN), announced the average water level of reservoirs behind power dams in Colombia.
The entity said that the reservoir levels were 84.7% of their usable volume in November 2021, 0.2% less compared to October this year (84.9%), Valora Analitik reported.
The level by regions was led by Antioquia (99.3%), followed by Oriente (93.9%), Caribbean (91.8%), Valle (72.2%) and Center (64.3%).
XM's Jaime Zapata said during the last nine months, additions have been above the historical average, leaving the aggregate reservoir at a high level.
"This added to the contribution of thermal generation, minimizes the risks for meeting the demand in the coming dry season," Zapata highlighted.
Bottom-Line: Reservoir levels are at good levels thanks to the rainy season, but the need to diversify the energy matrix is still present.
Colombia must continue on the path of encouraging renewable energies to diversify its energy matrix in the medium term.